AN EXTRAORDINARY
ENCOUNTER
Game rich and abundant in animal and birdlife, Rooibosbult Safaris has a luxury lodge situated within the Limpopo Bushveld. Our accommodation offers one well-appointed and spacious lodge and four chalets, which are sufficiently separated from one another to guarantee both privacy and an unobstructed view of the magnificent Waterberg Mountain range. Hidden away in lush bushveld, the lodge is located to give easy access to the hunting areas, covered with typical Bushveld trees like Camelthorn, Knobthorn, Red Bushwillow, Leadwood and many others. Early in the mornings, it is not uncommon to be greeted by roaming game and a beautiful African sunrise.
Designed to be the hub of all communal activity, the lodge has a large kitchen, a bar, spacious sitting and dining areas with a TV that leads into the outside barbeque areas and swimming pool. It also has two (2) en-suite guest rooms that can accommodate four (4) guests. Outside there is a sparkling swimming pool, indoor barbeque area with plenty of room to relax and unwind after a successful day in the field.
Maintaining communication when travelling, is an integral part of our lives. We offer you free, unlimited Wi-Fi, during your stay. The outside boma area has ample seating for those family gatherings around the fire with a stunning view of the wilderness, which comes alive at night with the sound of various game roaming about under the African starlit sky.
At mealtimes you can look forward to being served the most delicious South African traditional cuisine, from the hot and cold breakfast in the mornings, pre-packed delights for lunch on the hunt and dinner by the fire. Because meat cannot be taken back home, venison is a staple on our dinner menu and is frequently served and savoured by our guests.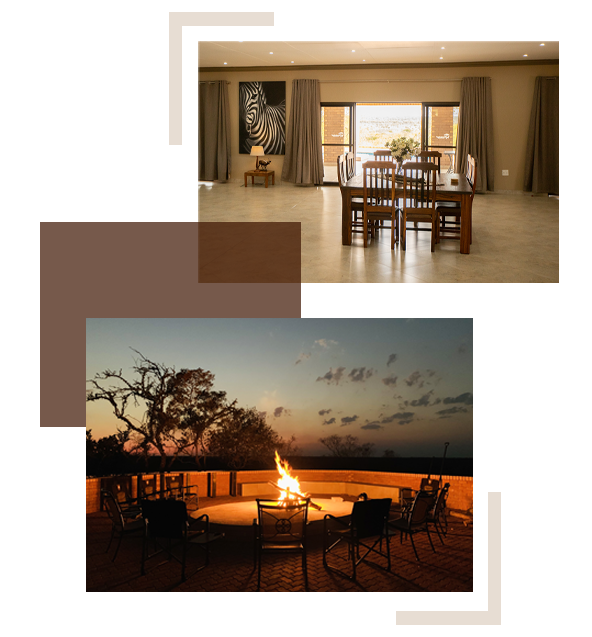 The chalets are named after some of Africa's indigenous plains game – the Kudu, Zebra, Wildebeest and Sable. Each chalet sleeps 8 guests, and each room has standard 2 ¾beds – that can be changed into a king size bed for our romantic honeymoon couples – air conditioning and all the bedrooms are en-suite with good quality towels and linen. Maintaining communication when travelling is an integral part of our lives.
A visit to a game lodge has become highly recommended for the average overseas visitor and because we understand that our guests travel from far and wide, we take the utmost care to ensure that your stay with us is both memorable and comfortable. Time spent at the lodge is all about peace and tranquility, clean fresh air and skies with the brightest stars you have not yet seen. Attention to detail and service delivery to our guests is of utmost importance to us.
Rooibosbult Safari Lodge provides a sought after bowhunting experience in an environment that offers deluxe accommodation and amenities. 
Hunting

Accommodation

Activities

Crating & Packing