Animals are taken back to camp intact after photographs. Everything is utilized. Nothing is field dressed. The PH will ask you if you want your trophy skinned for a shoulder mount, rug, boiled out skull, etc. Animals will be skinned and caped accordingly. Your hides and capes will be salted and dried. Horns/skulls will be boiled out.
NB: You cannot take any meat or trophies back with you, it is against US Dept of Agriculture regulations to import wild game or meat of any kind without a proper license. Your trophies must either be mounted in South Africa OR you can have them dipped and packed for mounting in the USA. All trophies will be shipped through import/export authorities with the relevant documentation.
Swift Dip has been in operation since 2006 and is owned by Antonie and Natasha Lotter. They run a Dip and Pack facility and dedicate all their time and attention to their business. Their facilities are approved by the South African Veterinary Services (Department of Agriculture) as a Trophy export and dip and pack facility. Their facility is inspected annually to ensure they comply with local and international regulations. Swift Dip is situated in the Limpopo Province, Thabazimbi district.
+27 83 728 0869
natasha@swiftdip.co.za
www.swiftdip.co.za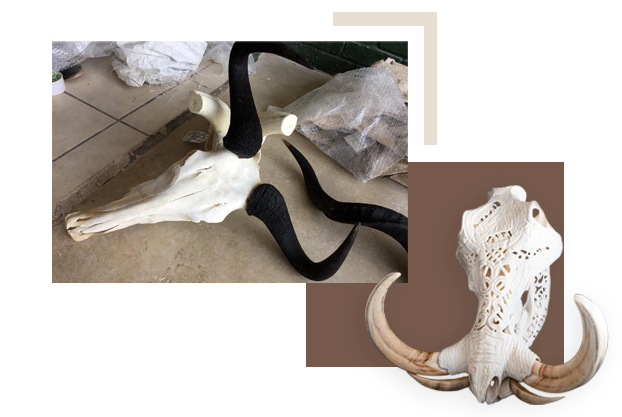 HIGHVELD TAXIDERMY
THOMAS OCHSENBEIN
At Highveld Taxidermists we take great pride in our work – attention to detail during every part of the process ensures that the final product exceeds our clients' expectations. Combining art and the latest in taxidermy technology, we make sure that your prized trophy is something you can be proud to show off! Our customer service and workmanship are something we take very seriously.
+27 12 650 0400
info@highveld.biz
www.highveldtaxidermists.com
IMPORTANT NOTICE REGARDING IMPORTING TROPHIES TO THE USA
All Hunters must be identified by their full given name as it appears on their Passports.
A copy of the Hunt Registration and/or Hunting Permits are required to be submitted with every entry.
Only one Hunter's trophies per crate allowed.
Clients have requested that their Hunting Outfitters combine two, or more, clients' trophies onto one PH Register. Note that this illegal to do and can land you in serious trouble. Should you as PH/Outfitter allow such practice, you can be held responsible for submitting false/fraudulent information, as you have signed the PH Register. According to the Lacey Act in America, it is violation of law to complete/submit such false documentation."
THE FOLLOWING ANIMALS MAY NOT BE IMPORTED INTO THE USA UNDER ANY CIRCUMSTANCES:
Cheetah and Lion
African Wild Dog
Brown Hyena
Scimitar Horned Oryx
Mountain Cape Zebra
Black Rhino
Rooibosbult Safari Lodge provides a sought after bowhunting experience in an environment that offers deluxe accommodation and amenities. 
Hunting

Accommodation

Activities

Crating & Packing